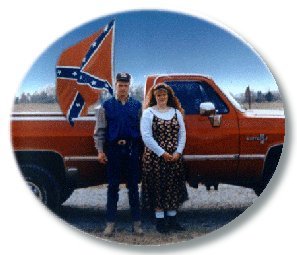 Michael and Hannah Westerman pose before leaving
on their first night out after the birth of their twins.
A very short time after this photograph was taken,
Michael would be fighting for his life. Less than
24 hours later, Michael lost that fight.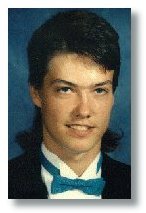 Michael's High School Graduation Portrait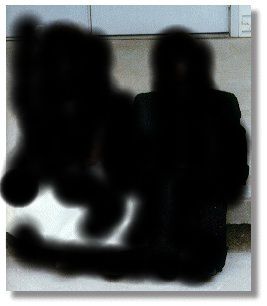 All grown up....without a father.





March, 1995...

David Westerman gently pats his grandson on the back after a feeding. With the small infant fussing, he softly tells the baby "This was supposed to be Daddy's job."

But Michael David Westerman, 19, father of the 2 1/2 month old twins, won't be present for his children's feedings. He was shot to death January 14 while driving with his wife, Hannah, to Springfield for the couple's first night out since the December 9, 1994 birth of their twins.

He's already missed Austin's and Adrianna's first smiles, his widow said during an interview this week at his parent's home, where she and the twins have lived since the slaying.

While his young widow sits in an oversized living room chair, she cuddles one of her babies and tells of her struggle to adjust to a life alone and to understand the murder that has drawn national attention.

Seven black males from Guthrie, Kentucky, where the couple had lived, are charged in the case. The suspects told police the shooting occurred after they spotted a Confederate Battle Flag in the back of Westerman's pickup truck. One of the seven fired the fatal shot at the truck. Two of the suspects claim Michael yelled racial slurs, and "shook his flag" at them when their paths crossed in a convenience store parking lot. But the other five suspects did not confirm these accusations.

"It makes me sick to hear that people who didn't know Michael are saying that he had the flag on the truck in a racial way," Hannah said. "Why lie about it, why not just go ahead and say 'We went out and killed this boy because we wanted to.' "

"I just can't believe someone could be so heartless, to take his life, for nothing. I just want to ask them 'Why?' " Hannah said. "They'll never know what they took from us."

April 26, 1996...

Freddie Morrow, who fired the shot that killed Michael Westerman, and Damien Darden, who drove the lead vehicle that pursued Westerman's truck, were sentenced today to life in prison for the crime of felony murder. They both must serve a minimum of 25 years before becoming eligible for parole. In addition, Morrow received an addtional nine year sentence, and Darden an additonal four years, for attempted aggravated kidnapping and civil rights intimidation.

"It must be made clear that this type of senseless violence cannot be tolerated and must be dealt with severely," Circuit Court Judge Robert Wedemeyer said.